ABOUT US
Sugar Space is a community art and event space and reception center. In 2007 Sugar Space opened our doors with 1,500 square feet in the Sugarhouse neighborhood in Salt Lake. Since then, we have undergone three expansions and now have over 10,000 square feet of space and are located one mile from the Salt Lake City center. We have received support from the Salt Lake City Economic Development Fund and Salt Lake County and have been designated as a Cultural Facility. Sugar Space hosts innovative, multi-disciplinary arts programs and supports and showcases emerging and established artists locally and abroad. Sugar Space is also available for private hourly rental to the community and boasts a wide array of classes, performances and events for adults and children. Because of it's appeal, Sugar Space has also become a highly sought after event venue and corporate events, receptions, parties, weddings and more. We hope to see you in the space!
LOCAL
Locally owned and operated since 2007.
CREATIVE
A place for experimentation, innovation, creation and presentation.
UNIQUE
Since the early 1900's the property was home to a family construction business. Newly converted to an arts and events center, it feels like home, with a twist.
MEMORABLE
Events are customized to meet your vision with our personal touch.
Latest news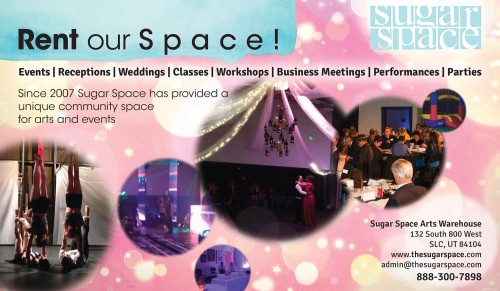 Book your date now to PERFORM at SUNDAY PERFORMANCE SALON New in 2016! A Performance Series featuring YOU. Pick a Sunday in 2016 from 6-8pm. Book your Date.Book Now $ 50 for 2 hours venue rental * 50 chairs for audience provided * 50 Sundays available for 2016 Price includes basic theatrical lighting, blackbox[…]
Previous
Next