CLICK ON THIS LINK TO BUY TICKETS!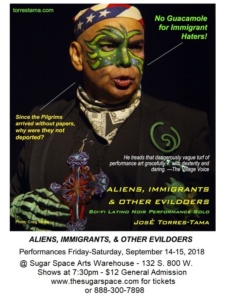 Jose Torres-Tama's current touring solo show, ALIENS, IMMIGRANTS & OTHER EVILDOERS, is a sci-fi Latino noir performance that exposes the hypocrisies of a system that dehumanizes immigrants while readily exploiting their labor, and was developed through a National Performance Network Creation Fund award. ALIENS has sold out a two hundred seat-theater at Vanderbilt University; all three nights presented by Pangea World Theater in Minneapolis; and the two shows at the Los Angeles Theater Center's 2014 Encuentro National Festival.
Performance Space 122 and Theater for the New City in New York, GALA Hispanic Theatre in DC, the National Hispanic Cultural Center in Albuquerque, Living Arts of Tulsa, the Contemporary Arts Center in New Orleans, and the Los Angeles Theater Center are among many arts organizations that have also presented his provocative work.
From 2006 to 2011, he contributed commentaries to NPR's Latino USA news journal on the many challenges of the reconstruction of New Orleans post-Hurricane Katrina. Diálogos Books New Orleans has published Immigrant Dreams & Alien Nightmares, a debut collection of twenty-five years of poems that have informed seven solos.