CLICK ON THIS LINK TO BUY TICKETS FOR ALL UPCOMING PERFORMANCES AND EVENTS!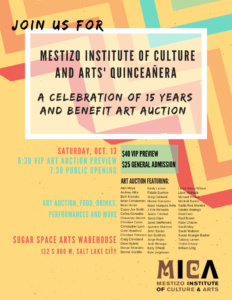 On Saturday October 13, the Mestizo Institute of Culture & Arts (MICA) will host a birthday bash to celebrate 15 years of service to the Salt Lake and Westside community! The event will be held from 6:30-9:30 PM in its new home, Sugar Space Arts Warehouse (132 S 800 W). VIP Art Auction preview at 6:30; Public opening at 7:30.
Tickets are $25 for general public; $40 for VIP. VIP entry includes tickets to the preview party with featured artists, early access to artwork for auction (VIP doors open, 6:30), and other surprises. The ticketing link will be posted soon (9/29).
MICA's Quinceañera will feature live music, delicious food, a cash bar—and, of course, an exciting arts atmosphere, including the announcement of the new Ruby Chacon Social Justice & Arts award! This award will be offered annually and recognize a local recipient whose work in the community has improved the quality of life for Salt Lake City residents. It will also honor the enduring legacy of MICA's founder. Attendees are invited to participate in a silent auction of all artwork exhibited for the event. Proceeds are tax deductible and will directly support MICA's future programming and exhibits.
Artists to be featured in this special Art Auction event include…
Alex Moya
Andrew Alba
Beth Krensky
Brian Christensen
Brian Usher
Casey Jex Smith
Chauncey Secrist
Christian Casas
Christopher Lynn
Collin Bradford
Christopher Lynn
Christian Petersen
Craig Cleveland
Dave Hyams
Denae Shanidiin
Dionne Gordillo
Emily Larsen
Esperanza Cortes
Fidalis Buehler
Greg Caldwell
Hector Gonzalez
Isaac Vazquez Avila
J Kirk Richards
Jaime Trinidad
Jared Clark
Jared Steffensen
Jazmine Martinez
John Sproul
Jon Burkholz
Jorge Rojas
Josh Winegar
Kelly O'Neill
Kyle Jorgensen
Laura Sharp Wilson
Lizze Määttälä
Michael Pribich
Mitchell Barton
Nadia Rea Morales
Natalie Stallings
Reid Elem
Ruel Brown
Ruby Chacon
Sarah May
Sarah Waldron
Susan Krueger-Barber
Tatiana Larsen
Trisha Empey
William Littig
Esperanza Cortes
… AND MANY MORE!
ALSO… LITERARY DEATH MATCH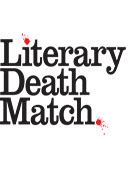 Utah Humanities presents the triumphant return of Adrian Todd Zuniga and Literary Death Match to Salt Lake City! LDM marries the literary and performative aspects of Def Poetry Jam, rapier-witted quips of American Idol's judging (without the meanness), and the ridiculousness and hilarity of Double Dare. Judges for this event will include: Brian Laidlaw, Cassie Cox, and Angelika Brewer. Contestants to be announced soon. Tickets are $10.00 and are available at www.thestateroom.com beginning in late August.
How It Works: Literary Death Match features a mix of four established and emerging writers who perform their most electric work before a live audience and a panel of three all-star judges. After a pair of readings, the judges take turns spouting hilarious, off-the-wall commentary, focusing on Literary Merit, Performance and Intangibles. The judges select one writer from each round to advance to the finals, where we trade in the show's literary sensibility for an absurdly comical climax — like Pin the Mustache on Hemingway, or a literary spelling bee featuring complicated author names — to decide who takes home the Literary Death Match crown. For more info on LDM, visit: http://www.literarydeathmatch.com/about