PAIN AND POSSIBILITY: A COMMUNITY ART SERIES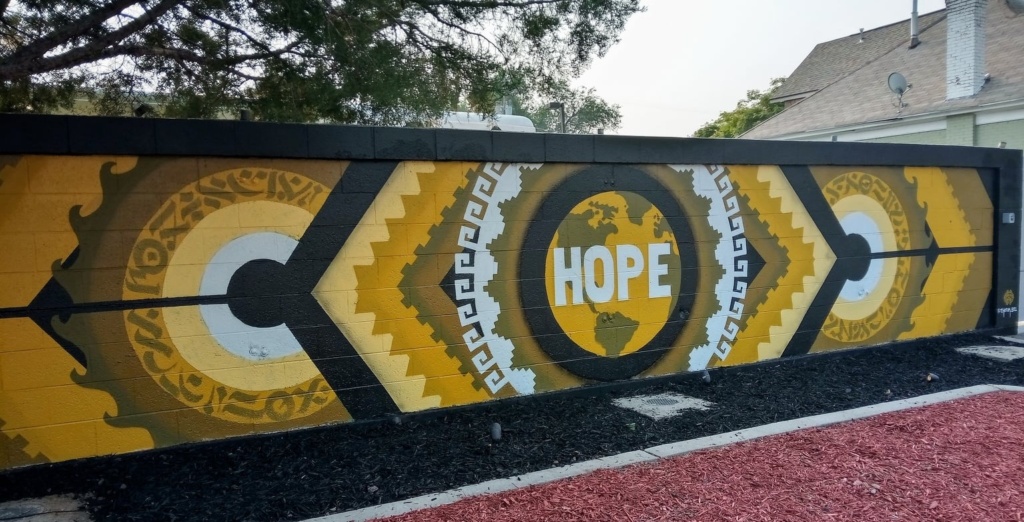 A group of local artists present a series of public art projects across Salt Lake City. Through mural painting, sculpture, dance, video and other media, this diverse group of artists that include BIPOC, LGBTQ and Allies, are helping our community engage with today's reality while reimagining tomorrow.
We are living in an historic moment and we do not yet know where it will lead us. Like all moments, it is complex. Fear, pain, and isolation exist side-by-side with hope, healing, and solidarity. Deep-rooted injustices have been ripped into the light of day by a global pandemic that is disproportionately ravaging communities of color, Indigenous communities, and communities of immigrant and refugee background like those on Salt Lake's west side. At the same time, a massive uprising is forcing society to reckon with its 400-year history of murdering Black people in the name of law and justice. Calls to defund the police and abolish prisons are gaining new ground, along with intersectional struggles like the fight for Black Trans lives.
Artists and cultural workers have important roles to play this moment of pain and possibility. Sugar Space Foundation, Mestizo Institute of Culture and Arts, and a collective of community partners are joining together to provide a platform for artists to engage with this painful present in all its complexity and contribute to collective healing and action. The following artists projects were selected through a competitive application process.
We take very seriously the challenges of engaging in the arts during COVID-19. All projects ensure physical distancing and other health precautions. All projects are structured with plans in order to keep our community safe.
Projects take place between August 22-September 6. See below for info.
PARTICIPATING PROJECTS
______________________________________________________
Andrew Alba
"WORKED" https://www.facebook.com/events/1440263466172565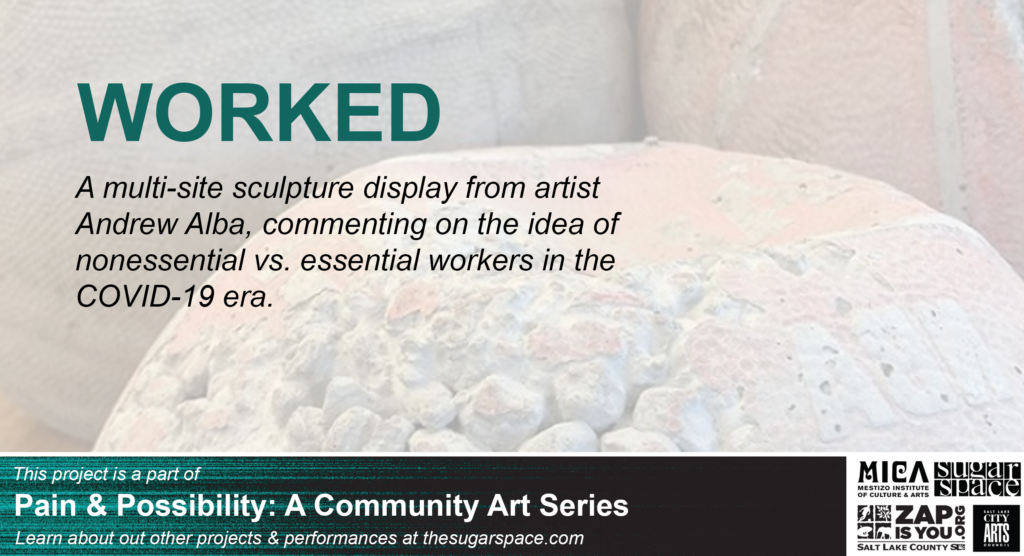 Andrew Alba's "WORKED" is a display of sculptures of modern day workers. Alba comments on the idea of non-essential vs essential workers in the Covid 19 era. "Though many workers like myself are not deemed essential. We are still expected to leave our home everyday and work for the upper class"
August 28th from 2-6pm, at the Utah Museum of Contemporary Art, 20 S W Temple, Salt Lake City, UT 84101.
Sept 1st through 2nd at Wasatch Community Gardens, 622 W 100 S, SLC, home of the Green Team Jobs Program: https://wasatchgardens.org/job-training
September 3 from 2-5 at Modern West Fine Art, 412 S 7th W, SLC
Other dates and locations will be announced here as they are confirmed.
Alba is a self-taught artist and descendant of Mexican migrant workers. Alba recently finished an Artist-In-Residence at the Utah Museum of Contemporary Art and at Modern West Fine Art. In 2020 Alba received the Visual Arts Fellowship from the Utah Division of Arts and Museums. He has exhibited work throughout the Pacific Northwest and Salt Lake City where he was born, raised, and currently resides.
______________________________________________________
Renée Michael, Carla Locatelli, Mestre Jamaika, Allyson Jelitto, Alix Walburn, Tatiana Canettieri, Dinitri Jacksonand Eiby Lobos
"Capoeiristas for Black Lives Matter" https://www.facebook.com/events/431515411065774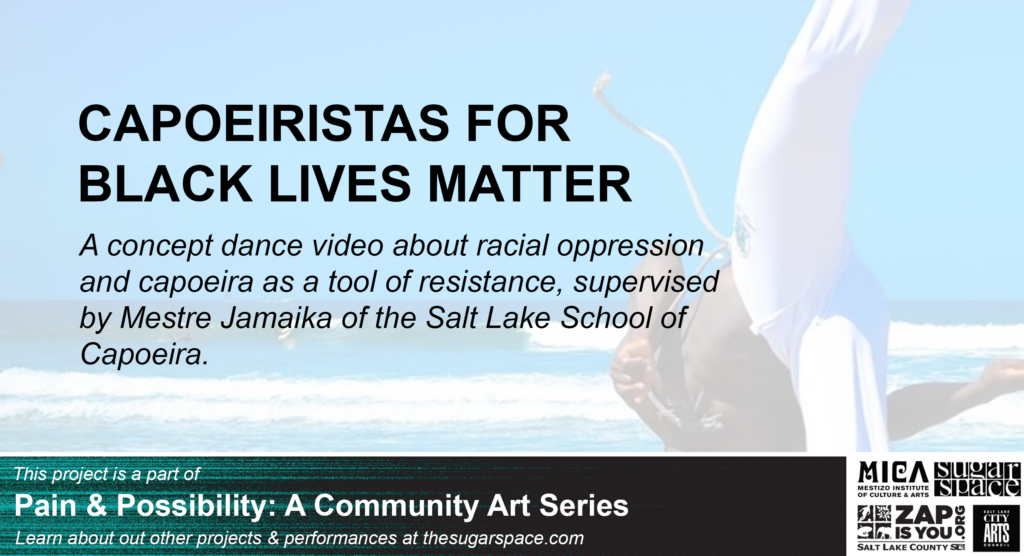 Under the supervision of Mestre Jamaika of the Salt Lake school of Capoeira known as Volta Miúda, a group of capoeira students will present a concept dance video that shows the parallel of racial oppression in black and brown communities and police brutality. The video will highlight traditional song, music, and dance, and how the Afro-Brazilian martial art form is used as a tool of resistance to this very day. The concept and vision will inspire us to move forward progressively and to create real spaces for change in our communities.
Film screenings at Sugar Space, 132 South 800 West SLC.
August 28th at 8, 8:15, 8:30, & 9:00 pm
August 30th at 8, 8:15, 8:30, & 9:00 pm
Live Zoom show with Q&A:
September 3 at 7:30pm
______________________________________________________
Kathy Tran and Alejandro Moya
"Tomorrow's Monument" https://www.facebook.com/events/2667473013579858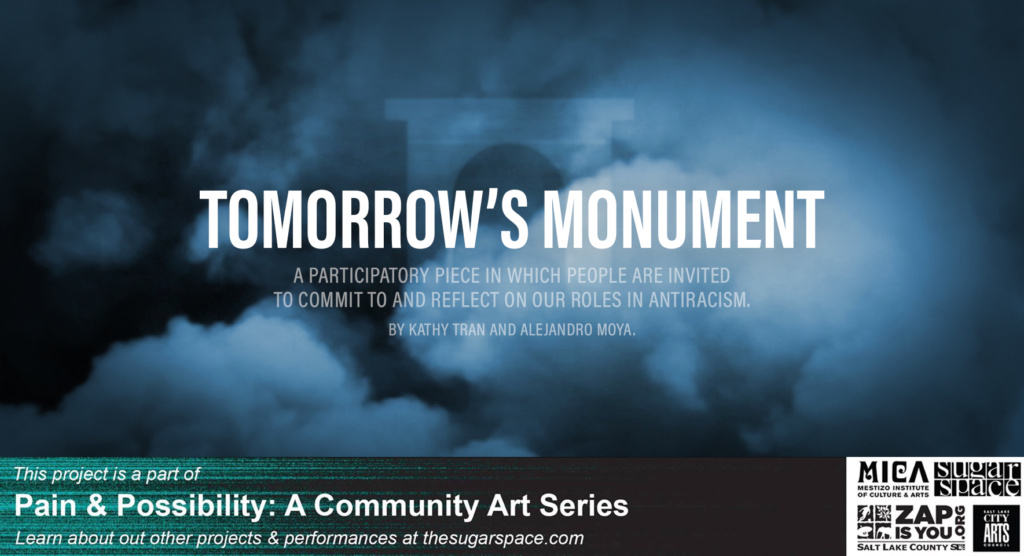 Kathy Tran and Alex Moya will present "Tomorrow's Monument", a participatory piece in which people are invited to interact with a temporary monument by crossing through it as a symbolic commitment to anti-racism. Through projections on the monument structure, Kathy and Alex offer an opportunity for reflection on our roles—individual, collective, and systemic—in eliminating racism.
Monument will be displayed September 3rd and 6th from 8-10pm at Sugar Space, 132 South 800 West, SLC.
This piece will also be presented on the grounds of the SLC Arts Council (parking lot at Finch Lane Gallery) on September 4 and 5, from 8 pm to 10 pm.
Kathy Tran is a design educator focused in design thinking and makerspaces.
Alejandro Moya is an artist and designer who migrated from Mexico to Utah as a teenager.
______________________________________________________
Dominica Greene and Courtney Mazeika
"A Shedding" https://www.facebook.com/events/2670915636561264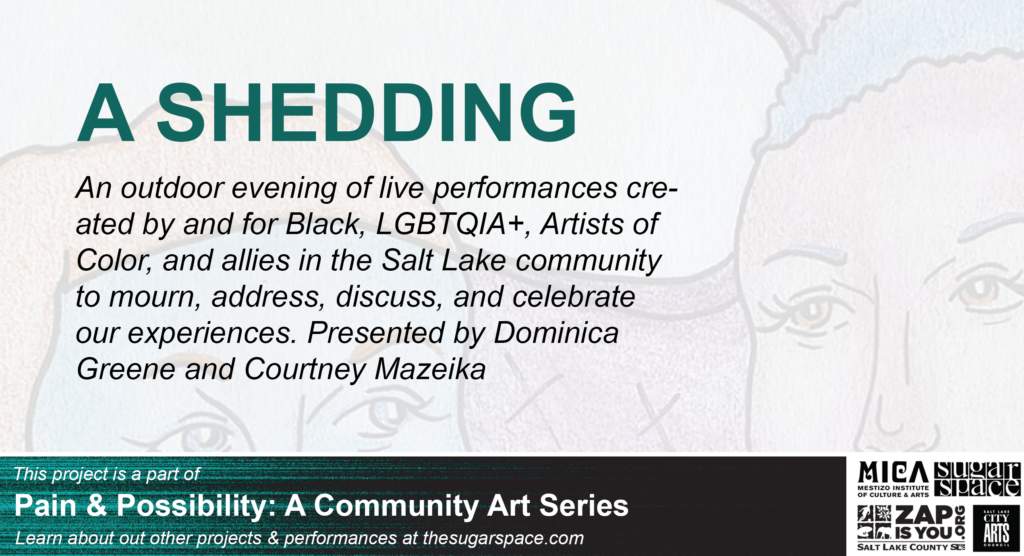 Dominica Greene and Cortney Mazeika present 'A Shedding,' an outdoor evening of live performances created by and for Black, LGBTQIA+, Artists of Color, and allies in the Salt Lake community. This gathering offers up the space for those involved to mourn, address, discuss, and celebrate our experiences both individually and collectively, including offerings by local movement artists, a local DJ, a guided post-performance conversation, and a collection of resources for actionable steps towards supporting anti-racist principles and BIPOC rights. 'A Shedding' is a home for our Salt Lake arts community to gather in safety and delve into a genuine exchange of perspectives; a space for artists to be distinctly seen, heard, and supported in their authentic expressions. Dominica and Courtney are dance artists currently based in Salt Lake City.
August 22nd and 23rd at 7pm. Visit https://www.ashedding.com/ for more info.
Gathering size will be limited, masks are required, physical distancing will be enforced for artists and audience, and other safety precautions will be in place for this outdoor event.
______________________________________________________
Roots Art Kollective (Miguel Galaz, Luis Novoa, Alan Ochoa)
"A World of Hope" https://www.facebook.com/events/639538396691175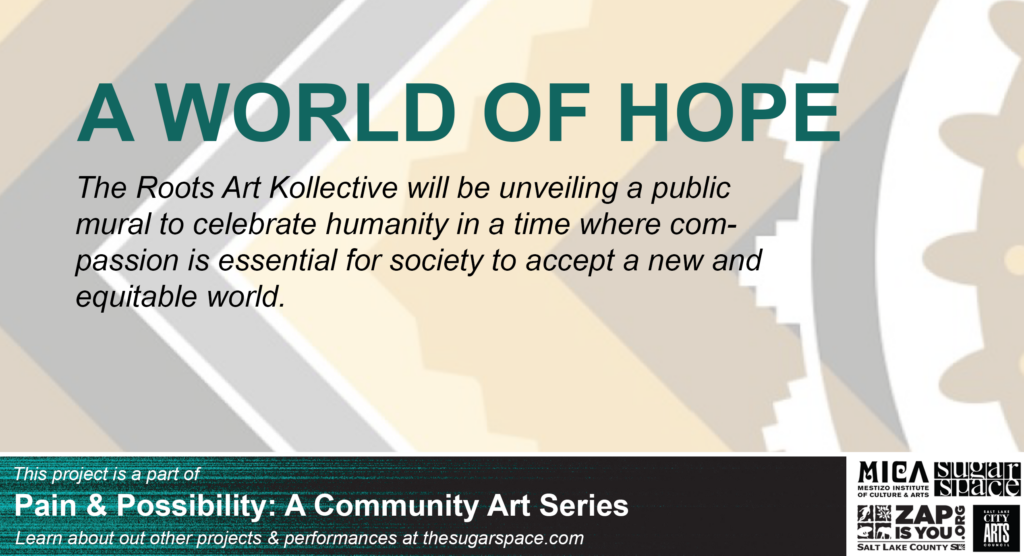 Roots Art Kollective will present "A World of Hope", a public mural to celebrate humanity, in a time where compassion is essential for society to accept a new and equitable world. Using intricate cultural patterns, vibrant colors that represent the diversity of humanity, and some words of hope to stand in solidarity with the social justice movements around the world that strive for equality and systematic change. Roots Art Kollective, is a group of artists with lived experience and commitment to the Westside of Salt Lake City. Their mission is to expand public art to create a colorful environment that allows people to learn about the cultures that enrich our communities.
Mural located at 123 South Jeremy Street, SLC, and unveiled on August 22nd
______________________________________________________
Dulce Horn, Ashlee Jackson, and Mikel Lawlor
"Uprising" https://www.facebook.com/events/946986749140637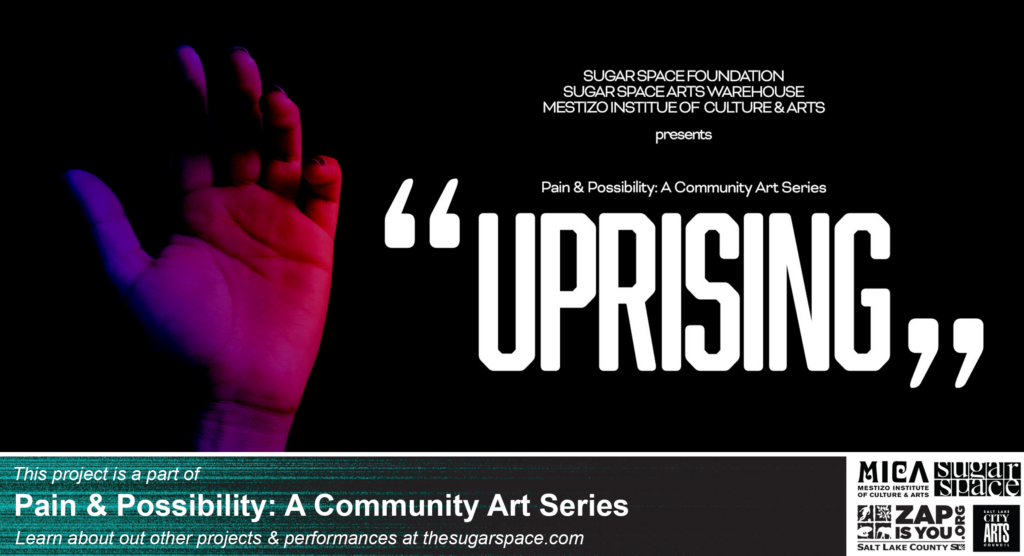 Dulce Horn, Ashlee Jackson, and Mikel Lawlor will come together to perform "Uprising". This series of short dance performances explores the emotional and experiential arc of a movement — the paths we take from harm to healing, from the loss of life to collective action for systemic change. Ashlee and Mikel are students at Rowland Hall; Dulce is an alum of Rowland Hall. All are/were part of the Rowland Hall Dance Company. The performance will be filmed by Cody Salais with support from Laura Summerfield.
August 29 at Sugar Space, 132 South 800 West SLC, 8:20, 8:40, and 9:00pm. Tickets: https://www.eventbrite.com/e/uprising-tickets-116658547857
August 30 at First Unitarian Church, 569 South 1300 East SLC, The show will be performed 8:20, 8:40, and 9:00pm. Tickets: https://www.eventbrite.com/e/uprising-tickets-116665358227
*Gathering size will be limited, masks are required, physical distancing will be enforced for artists and audience, and other safety precautions will be in place for this outdoor event.
Pain and Possibility: A Community Art Series is supported by
Zoo Arts & Parks and the Salt Lake City Arts Council.
For questions, contact:
Sugar Space Foundation c/o Sugar Space
132 South 800 West SLC, UT 84104
385-202-5504