Trendsetta (and special guests) at Sugar Space December 23, 2022
(Click here to buy tickets online)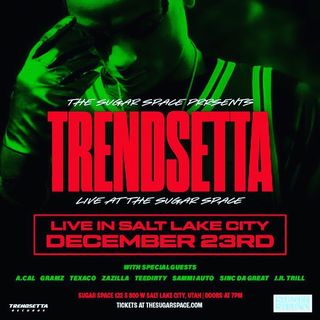 SB Dance presents: All Those Kinds of Love
Curbside Theater is a full-blown outdoor pop-up show featuring dance and live music by acclaimed nonprofit SB Dance. In partnership with Sugar Space, we present "All Those Kinds of Love", a piece set to Curbside Theater is a full-blown outdoor pop-up show featuring dance and live music by acclaimed nonprofit SB Dance. In partnership with Sugar Space, we present "All Those Kinds of Love", a piece set to an international songbook arranged and played by musical duo Raffi and Ischa. Note that this performance is outdoors, under open skies. Chair seating provided bring a blanket / mat for the carpeted front area. Made for an adult sense of humor and horror but nothing objectionable for kids. Cafe features Italian sodas, popcorn, and other bev and munchies. Doors open at 7:45pm; show at 8:30pm; performance lasts approximately 45 min. Video and more info at CurbsideTheater.com.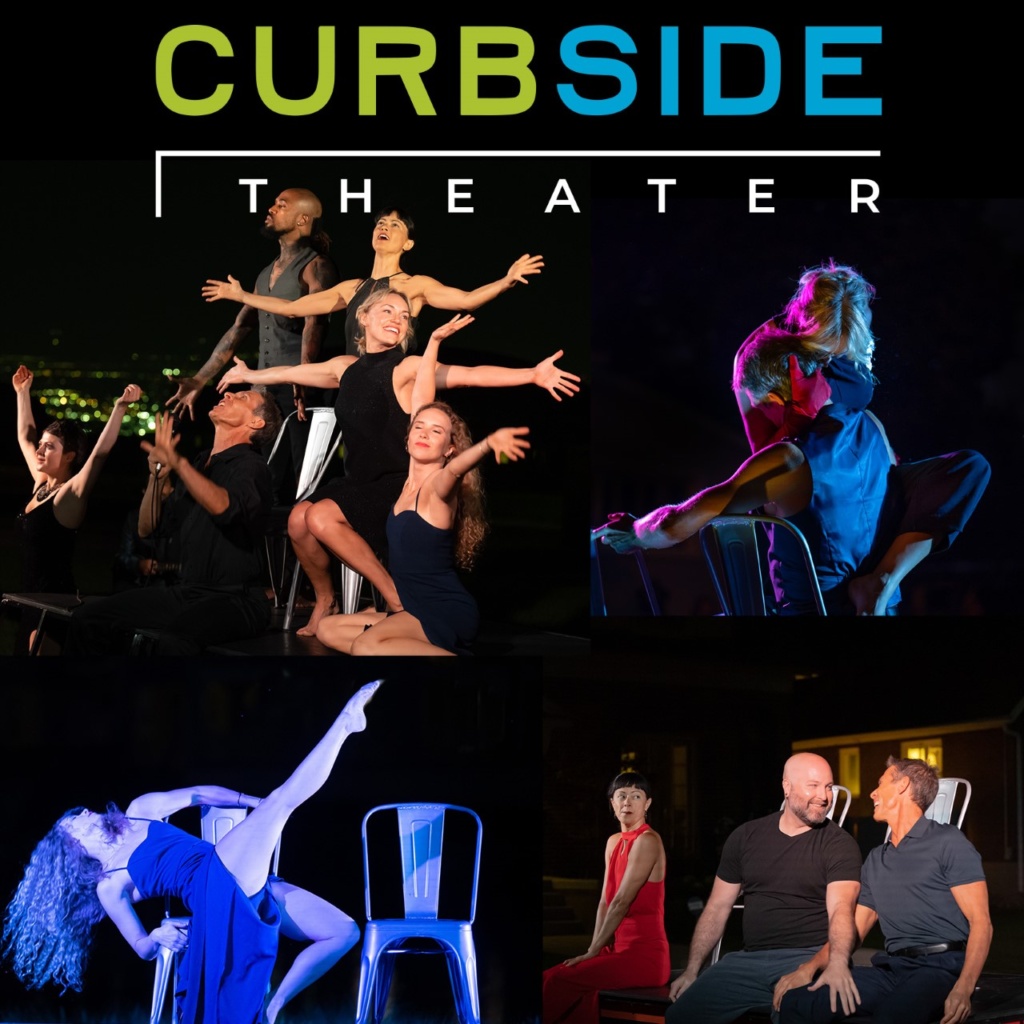 A Catalyst Center Production featuring Singer-Songwriter Noah Grant who just release his new album. An amazing night of music and fun.
May 6, 2022 @ 8pm
$9 (go to link in menu to buy tickets in advance online. Tickets also available at the door)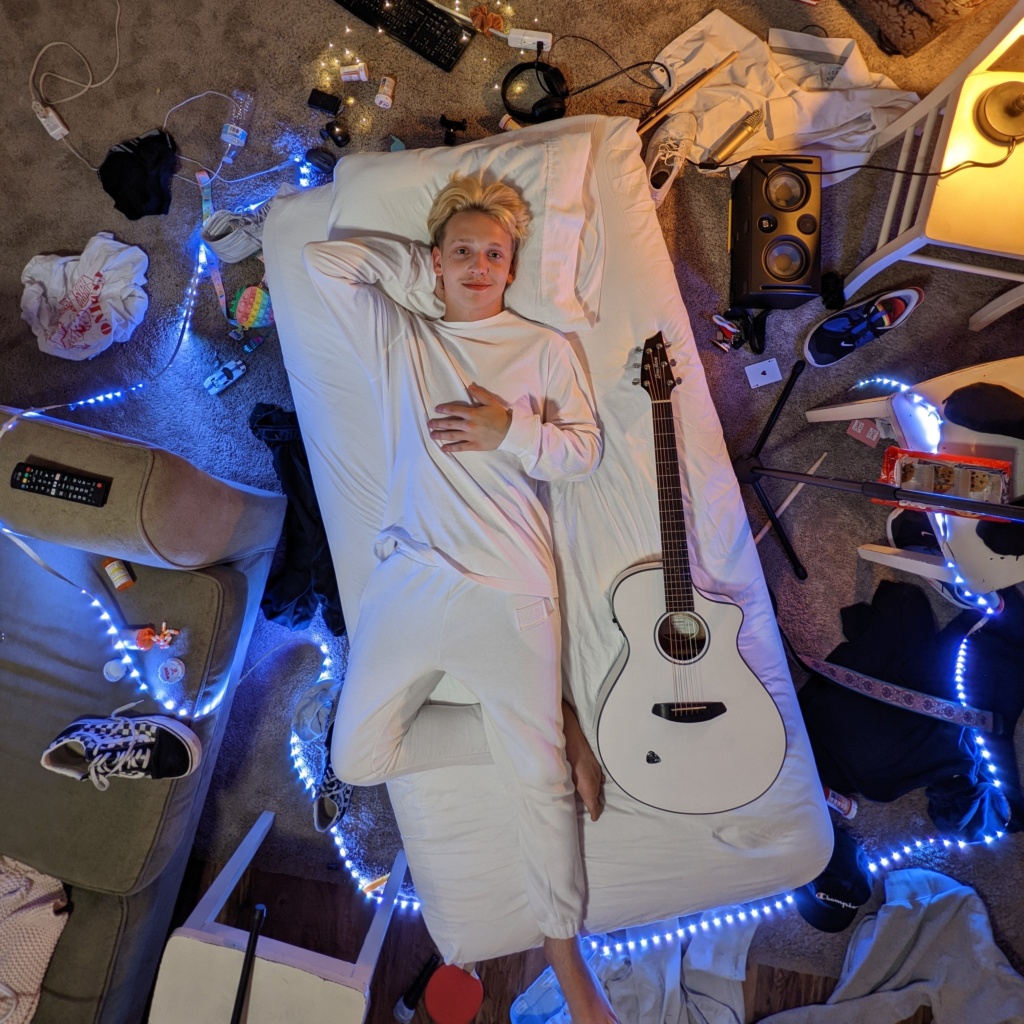 Catalyst Center Students in Collaboration with Sugar Space present
QUAINT IVY and BLAME IT ON ME (go to link in menu to buy tickets)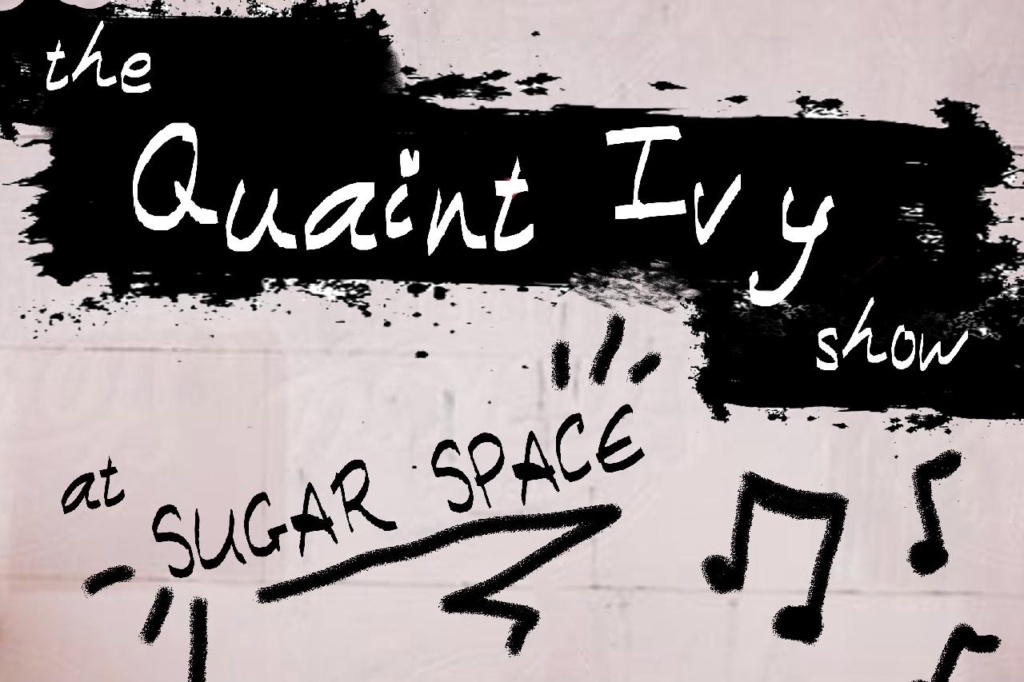 April 30, 2022
Tickets: $7 online $10 at the door
Doors open at 7:00, show starts at 7:30
Join us for a night of local bands including Quaint Ivy, Blame it on Me and Special Guests. Quaint Ivy is a local indie band known for their success in battle of the bands and their unique and contagious style. They will be performing a thrilling set of songs after a group of pre-shows to be performed by Blame it on me (a local pop punk band- also known for their success in battle of the bands) and others.
dawn: an evening with and presented by fem dance company
December 3 and 4, 2021 @ 7:30pm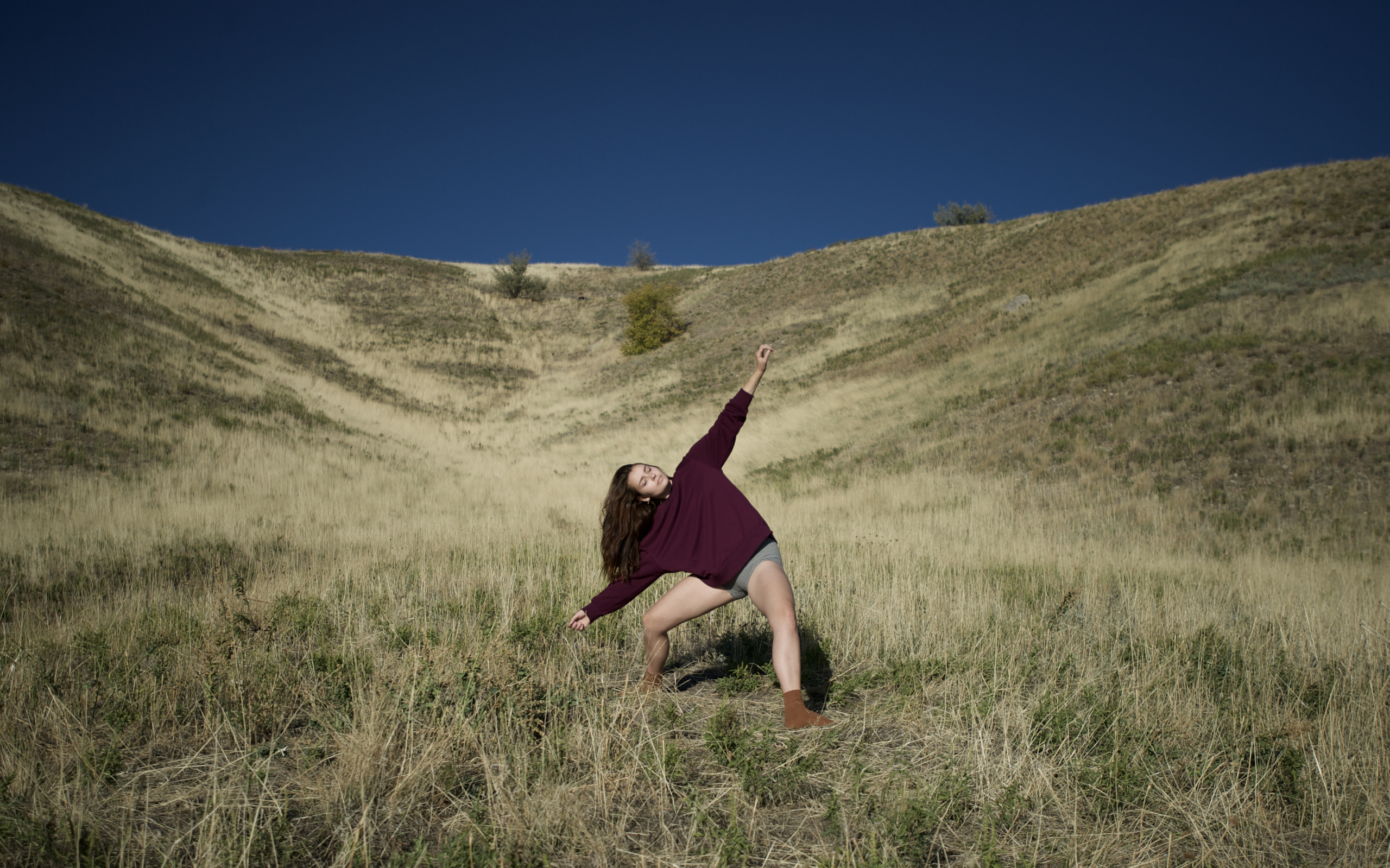 Please join us for an evening of dance, celebrating our first full production as a company! With
works by Alicia Ross, Ruby Cabbell, Christi Harris, and guest choreographer Stephanie Garcia,
the show explores a multitude of concepts surrounding the woman's experience. We are also
thrilled to be sharing the stage with a group of guest dancers from the Salt Lake community. It
will be a night of contemplation, awakening, and admiration.
Pricing
$20 – full/adult ticket
$10 – student ticket
Sundance Institute presents For the Locals: CODA in collaboration with Sugar Space Arts Warehouse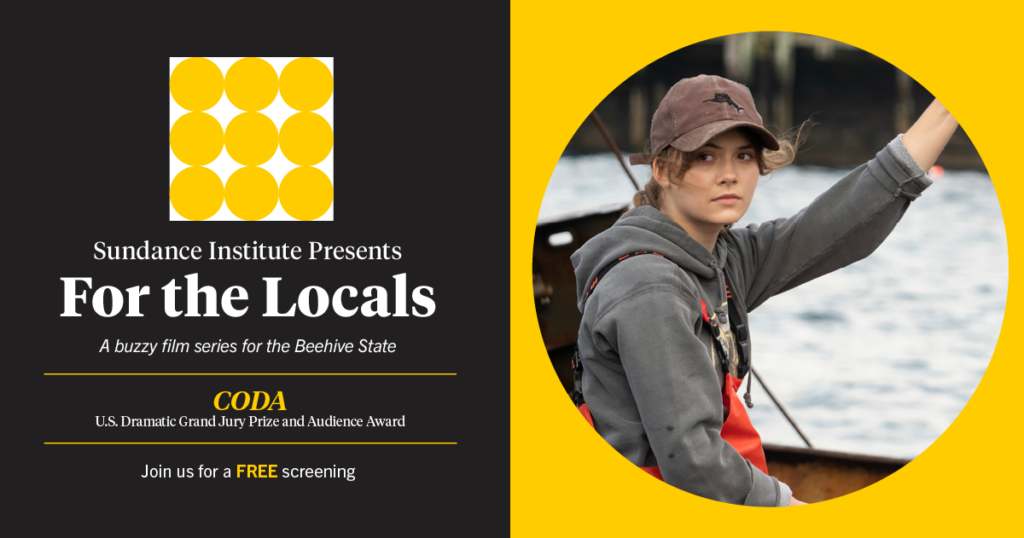 Saturday, July 17, 2021 5:00-10:30pm 132 S 800 W SLC, UT 84104 @ Sugar Space Arts Warehouse – FREE
Event Description: You are invited to a FREE outdoor community celebration on Saturday, July 17, hosted by the Sundance Institute. Join us for one or all of the activities! The event will kick off at 5 p.m. and will include films, music, an artist gathering and performance, local vendors, food trucks, and drinks from the Sugar Space Cafe available for purchase.
The Sugar Space Gallery will host a visual art show featuring muralist Miguel Galaz and other local artists curated by the Mestizo Institute of Culture and Arts. MICA is one of the west side's oldest arts organizations, dedicated to arts, justice, belonging, and community power.
Schedule of Events:
5 p.m.: Doors open
5:30 p.m.: Artist gathering
6:15 p.m.: Liberations: BIPOC Shorts film screening
7 p.m.: Live performance by poet Josh Nkoy
8 p.m.: CODA film screening (111 mins, rated PG-13)
If you have a disability and require accommodation in order to fully participate in this event, please contact the Sundance Institute at 435-658-3456 or [email protected] to discuss your specific needs. Every effort will be made to accommodate advance requests; requests made within seven days of the event may not be guaranteed.
ABOUT THE FILM
An instant hit, CODA was met by audiences at the 2021 Sundance Film Festival with an absolutely rapturous response, earning a staggering four awards (U.S. Dramatic Audience Award, Special Jury Award for Ensemble Cast, Directing Award, and Grand Jury Prize). This incredible ensemble cast brings to life the story of Ruby, the only hearing member of a deaf fishing family in Gloucester, Massachusetts. As Ruby struggles to find her place in her family and her world, her gorgeous singing voice brings her into her own. Siân Heder's heartwarming, exuberant follow-up to Tallulah (2016 Sundance Film Festival) brings us inside the idiosyncratic rhythms and emotions of a deaf family — something we've rarely seen on-screen. In developing CODA, which stands for "Child of Deaf Adults," Heder was determined to tell the story authentically with deaf actors. Her writing and direction — layered, naturalistic, frank, and funny — finds perfect expression in richly drawn characters and a uniformly outstanding cast, led by breakout newcomer Emilia Jones. Film is rated PG-13.
Visit our Meet the Artist video to learn more about director Siân Heder and the film.
Registration does not guarantee entrance — entry will be based on capacity and on a first come, first served basis.
By registering for this free film screening, you are agreeing to have your contact information shared with the Sundance Institute. You may opt out at any time from future communications.
The Sundance Institute encourages in-person attendees and artists to be fully vaccinated before attending all Institute-supported events. The CDC notes that being vaccinated greatly reduces your likelihood of contracting or transmitting the COVID-19 virus. Vaccination maintains your own health and safety, and reduces transmission rates within spaces and at events.We ask any attendee who is not feeling well or who has had a COVID-19 exposure within the last 14 days to please not attend until you test negative. We recommend that anyone who is high risk wear a mask during the event.
At our FOR THE LOCALS outdoor screening series we encourage social distancing where possible. When moving around during the event to any interior space, such as restrooms, we ask attendees to please wear a mask.
The Sundance Institute's Utah Community Programs are supported by Principal Sponsor Zions Bank; Major Supporters State of Utah, Utah Division of Arts & Museums, and University of Utah Health; and Community Supporters Salt Lake County Zoo, Arts and Parks (ZAP) Program; Peggy Bergmann; George S. and Dolores Doré Eccles Foundation; Salt Lake County Community Services; and Salt Lake City Arts Council.
EVENTOS
Sundance Institute presenta For the Locals
En colaboración con Sugar Space Arts Warehouse
Sábado, 17 de julio 2021
5:00—10:30 p.m.
132 S 800 W SLC, UT 84104 @ Sugar Space Arts Warehouse – GRATIS
DESCRIPCIÓN DEL EVENTO
ESTAS INVITADO A UNA CELEBRACIÓN COMUNITARIA gratuita al aire libre el sábado 17 de julio, organizada por el Sundance Institute. ¡Participa en una o todas las actividades! El evento comenzará a las 5 p.m. e incluirá películas, música, un encuentro de artistas y una presentación artística, vendedores locales, camiones de comida y bebidas para comprar en el Sugar Space Cafe.
La Galería Sugar Space tendrá una muestra de artes visuales curada por el Instituto Mestizo de Cultura y Artes con el muralista Miguel Galaz y otros artistas locales. MICA es una de las organizaciones artísticas más antiguas del lado oeste, dedicada a las artes, la justicia, la pertenencia y el poder comunitario.
HORARIO:
5 p.m.: Puertas abren
5:30 p.m.: Encuentro de artistas
6:15 p.m.: presentación de Liberations: BIPOC Shorts
7 p.m .: Actuación en vivo Josh Nkoy
8 p.m .: Proyección de película CODA (111 minutos, clasificación PG-13)
Si tiene una discapacidad y necesita adaptaciones para participar en este evento, comuníquese con el Sundance Institute al 435-658-3456 o [email protected] para discutir sus necesidades específicas. Haremos todo lo posible para satisfacer las solicitudes realizadas con por lo menos sietes días de anticipación; las solicitudes realizadas después de eso no serán garantizados.
SOBRE LA PELÍCULA
Un éxito instantáneo, CODA fue recibido por el público en el Sundance Film Festival 2021 con una respuesta absolutamente entusiasta, ganando cuatro premios asombrosos (U.S. Dramatic Audience Award, Special Jury Award for Ensemble Cast, Directing Award, and Grand Jury Prize). Este increíble elenco le da vida a la historia de Ruby, la única persona oyente de su familia de pescadores sordos en Gloucester, Massachusetts. Mientras Ruby lucha por encontrar su lugar en su familia y su mundo, su voz hermosa le permite encontrar un lugar propio. El conmovedor y exuberante seguimiento de Siân Heder de Tallulah (Sundance Film Festival 2016) nos lleva al interior de los ritmos y emociones idiosincrásicas de una familia sorda, algo que rara vez hemos visto en la pantalla. Al desarrollar CODA, que significa "hijo de adultos sordos", Heder estaba decidida a contar la historia en una manera auténtica con actores sordos. Su escritura y dirección – estratificada, naturalista, franca y divertida – encuentra la expresión perfecta en personajes ricamente dibujados y un elenco sobresaliente, dirigido por Emilia Jones. La película está clasificada PG-13.
Visite nuestro video "Meet the Artist" para obtener más información sobre la directora Siân Heder y la película.
Registración para el evento no garantiza su entrada. Su entrada se basará en la capacidad y por orden de llegada. Al registrarse para este evento, acepta que su información será compartida con el Sundance Institute. Puede optar por no recibir comunicaciones futuras en cualquier momento.
Sundance Institute recomienda que las personas y los artistas se vacunen antes de participar en cualquier evento de Sundance Institute. El CDC dice que vacunarse reduce la probabilidad de contagiarse con o transmitir el virus COVID-19. La vacuna mantiene su salud, seguridad y reduce la transmisión en espacios públicos y eventos. Si ha estado expuesto al COVID-19 o no se ha sentido bien en los últimos 14 días, no asista al evento hasta que obtenga un resultado negativo. Recomendamos que cualquier persona de alto riesgo use mascarilla durante el evento.

En nuestra serie de proyecciones al aire libre FOR THE LOCALS siga el distanciamiento social cuando sea posible. Cuando se mueven durante el evento a cualquier espacio interior, como baños, les pedimos que usen mascarillas.
Los programas comunitarios de Sundance Institute están respaldadas por patrocinador principal Zions Bank; auspiciadores principales State of Utah, Utah Division of Arts & Museums y University of Utah Health; y partidarias de la comunidad incluyendo Salt Lake County Zoo, Arts and Parks (ZAP) Program; Peggy Bergmann; George S. and Dolores Doré Eccles Foundation; Salt Lake County Community Services; y Salt Lake City Arts Council.
***************************************************************************
PAST EVENTS—-
SUGAR SPACE COMMUNITY MARKET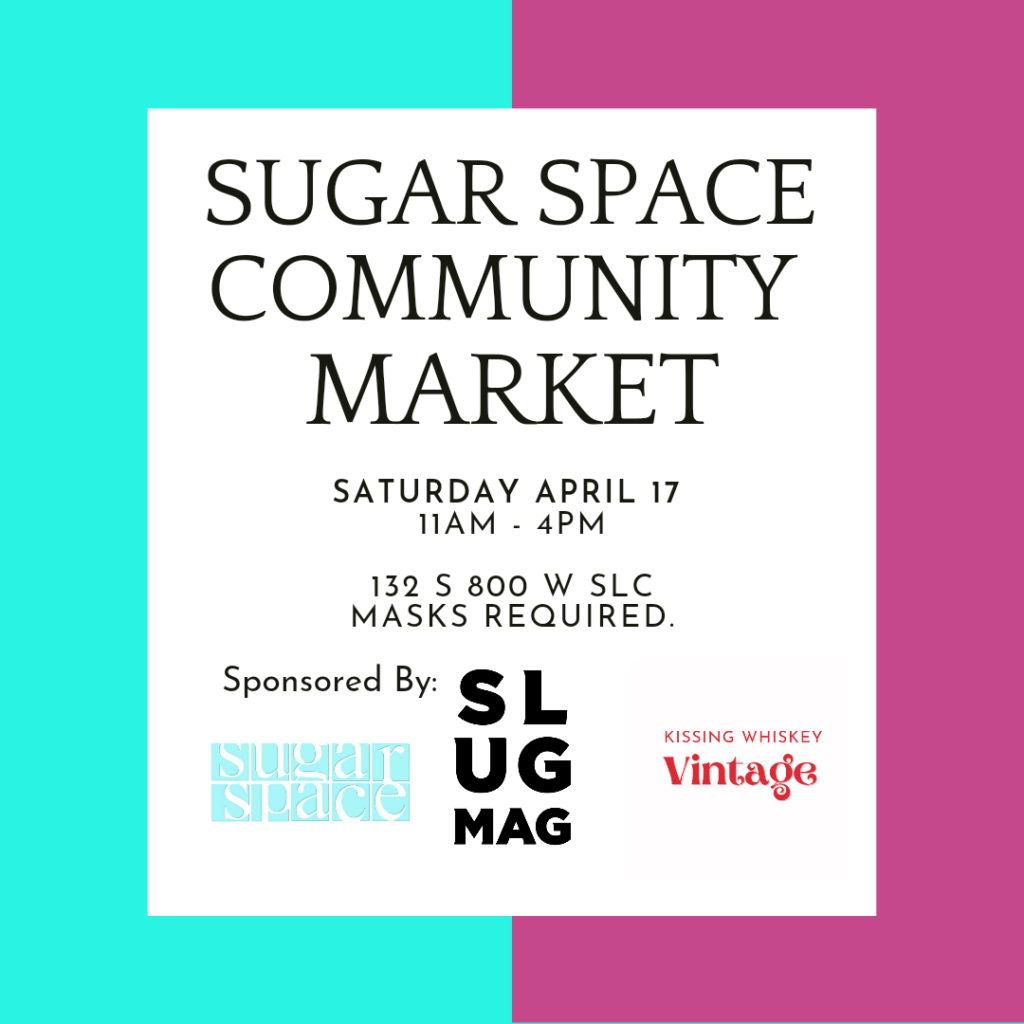 Sunday April 17 11am-4pm
Join us on April 17th for our 1st Sugar Space Community Market of the season featuring some of Salt Lake's most unique local artisans & small businesses! Our market is curated by Kristen with Kissing Whiskey Vintage & Sugar Space Events, featuring 15 incredible vendors – handmade goods, vintage clothing and jewelry, art prints, original works, and more!
Ample street parking available, 2 TRAX stations in walking distance. Walkable & bikable.
MASKS ARE REQUIRED
PAIN AND POSSIBILITY: A COMMUNITY ART SERIES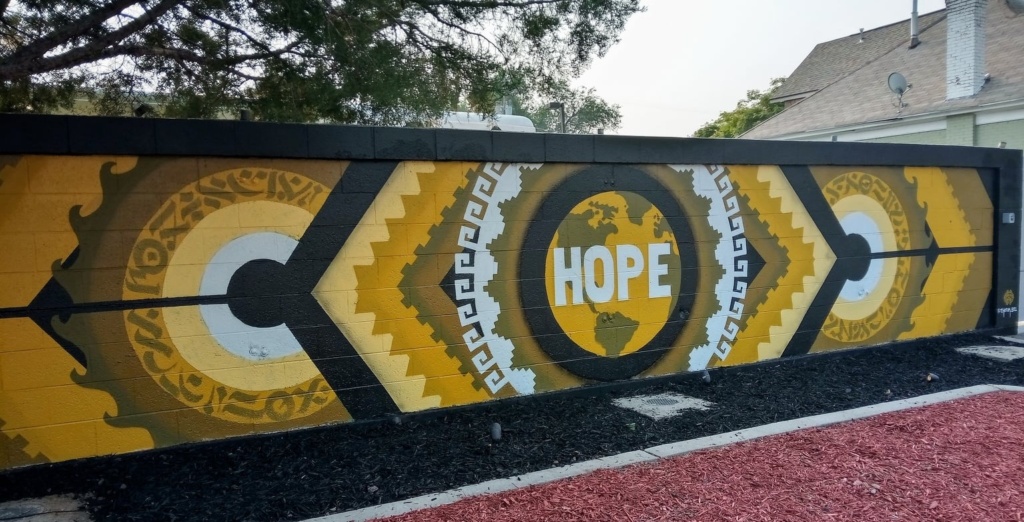 A group of local artists present a series of public art projects across Salt Lake City. Through mural painting, sculpture, dance, video and other media, this diverse group of artists that include BIPOC, LGBTQ and Allies, are helping our community engage with today's reality while reimagining tomorrow.
We are living in an historic moment and we do not yet know where it will lead us. Like all moments, it is complex. Fear, pain, and isolation exist side-by-side with hope, healing, and solidarity. Deep-rooted injustices have been ripped into the light of day by a global pandemic that is disproportionately ravaging communities of color, Indigenous communities, and communities of immigrant and refugee background like those on Salt Lake's west side. At the same time, a massive uprising is forcing society to reckon with its 400-year history of murdering Black people in the name of law and justice. Calls to defund the police and abolish prisons are gaining new ground, along with intersectional struggles like the fight for Black Trans lives.
Artists and cultural workers have important roles to play this moment of pain and possibility. Sugar Space Foundation, Mestizo Institute of Culture and Arts, and a collective of community partners are joining together to provide a platform for artists to engage with this painful present in all its complexity and contribute to collective healing and action. The following artists projects were selected through a competitive application process.
We take very seriously the challenges of engaging in the arts during COVID-19. All projects ensure physical distancing and other health precautions. All projects are structured with plans in order to keep our community safe.
Projects take place between August 22-September 6. See below for info.
PARTICIPATING PROJECTS
______________________________________________________
Andrew Alba
"WORKED" https://www.facebook.com/events/1440263466172565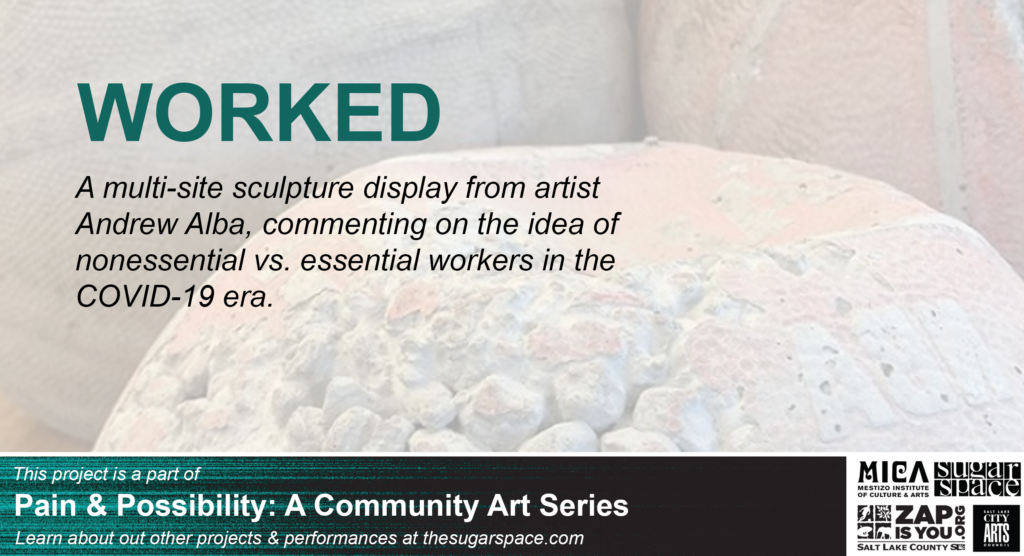 Andrew Alba's "WORKED" is a display of sculptures of modern day workers. Alba comments on the idea of non-essential vs essential workers in the Covid 19 era. "Though many workers like myself are not deemed essential. We are still expected to leave our home everyday and work for the upper class"
August 28th from 2-6pm, at the Utah Museum of Contemporary Art, 20 S W Temple, Salt Lake City, UT 84101.
Sept 1st through 2nd at Wasatch Community Gardens, 622 W 100 S, SLC, home of the Green Team Jobs Program: https://wasatchgardens.org/job-training
September 3 from 2-5 at Modern West Fine Art, 412 S 7th W, SLC
Other dates and locations will be announced here as they are confirmed.
Alba is a self-taught artist and descendant of Mexican migrant workers. Alba recently finished an Artist-In-Residence at the Utah Museum of Contemporary Art and at Modern West Fine Art. In 2020 Alba received the Visual Arts Fellowship from the Utah Division of Arts and Museums. He has exhibited work throughout the Pacific Northwest and Salt Lake City where he was born, raised, and currently resides.
______________________________________________________
Renée Michael, Carla Locatelli, Mestre Jamaika, Allyson Jelitto, Alix Walburn, Tatiana Canettieri, Dinitri Jacksonand Eiby Lobos
"Capoeiristas for Black Lives Matter" https://www.facebook.com/events/431515411065774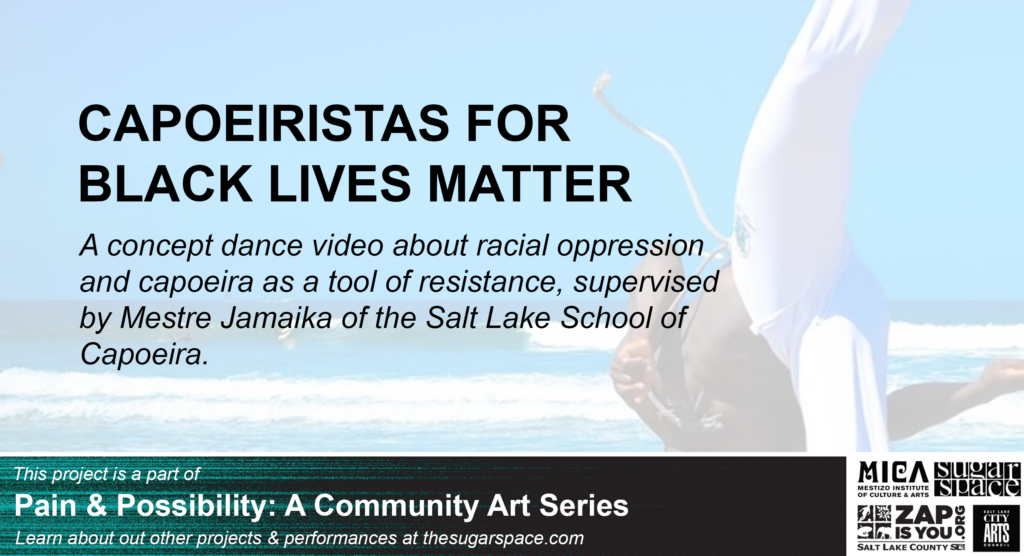 Under the supervision of Mestre Jamaika of the Salt Lake school of Capoeira known as Volta Miúda, a group of capoeira students will present a concept dance video that shows the parallel of racial oppression in black and brown communities and police brutality. The video will highlight traditional song, music, and dance, and how the Afro-Brazilian martial art form is used as a tool of resistance to this very day. The concept and vision will inspire us to move forward progressively and to create real spaces for change in our communities.
Film screenings at Sugar Space, 132 South 800 West SLC.
August 28th at 8, 8:15, 8:30, & 9:00 pm
August 30th at 8, 8:15, 8:30, & 9:00 pm
Live Zoom show with Q&A:
September 3 at 7:30pm
______________________________________________________
Kathy Tran and Alejandro Moya
"Tomorrow's Monument" https://www.facebook.com/events/2667473013579858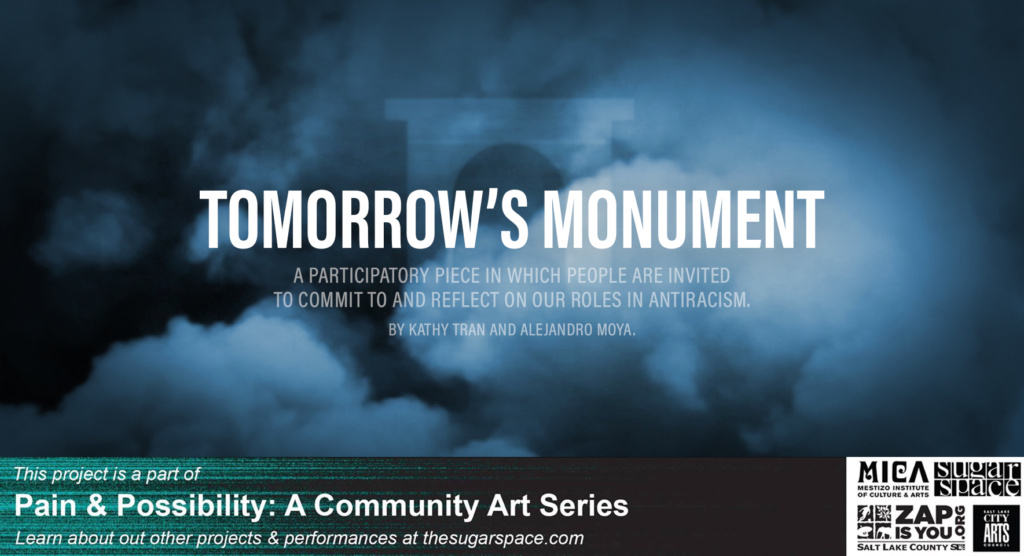 Kathy Tran and Alex Moya will present "Tomorrow's Monument", a participatory piece in which people are invited to interact with a temporary monument by crossing through it as a symbolic commitment to anti-racism. Through projections on the monument structure, Kathy and Alex offer an opportunity for reflection on our roles—individual, collective, and systemic—in eliminating racism.
Monument will be displayed September 3rd and 6th from 8-10pm at Sugar Space, 132 South 800 West, SLC.
This piece will also be presented on the grounds of the SLC Arts Council (parking lot at Finch Lane Gallery) on September 4 and 5, from 8 pm to 10 pm.
Kathy Tran is a design educator focused in design thinking and makerspaces.
Alejandro Moya is an artist and designer who migrated from Mexico to Utah as a teenager.
______________________________________________________
Dominica Greene and Courtney Mazeika
"A Shedding" https://www.facebook.com/events/2670915636561264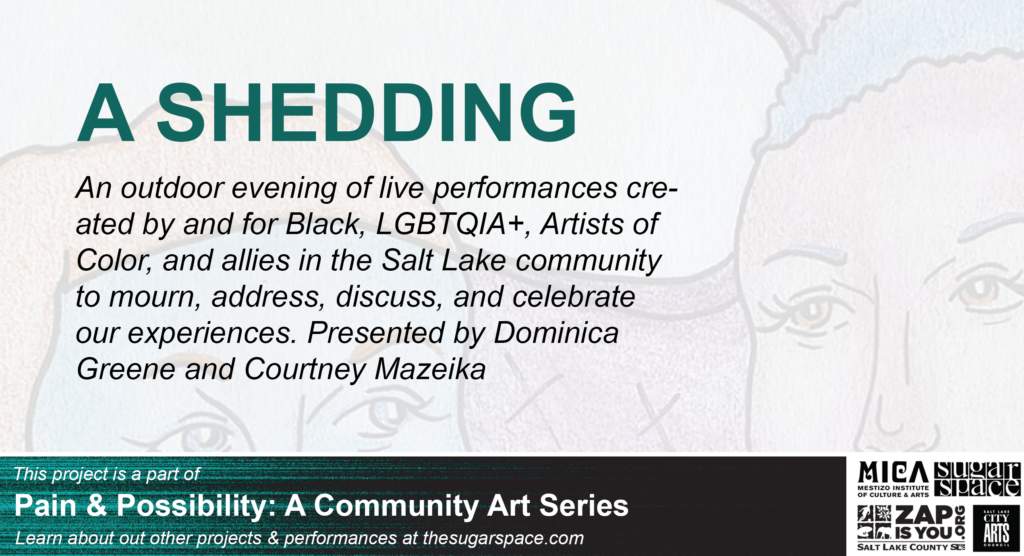 Dominica Greene and Cortney Mazeika present 'A Shedding,' an outdoor evening of live performances created by and for Black, LGBTQIA+, Artists of Color, and allies in the Salt Lake community. This gathering offers up the space for those involved to mourn, address, discuss, and celebrate our experiences both individually and collectively, including offerings by local movement artists, a local DJ, a guided post-performance conversation, and a collection of resources for actionable steps towards supporting anti-racist principles and BIPOC rights. 'A Shedding' is a home for our Salt Lake arts community to gather in safety and delve into a genuine exchange of perspectives; a space for artists to be distinctly seen, heard, and supported in their authentic expressions. Dominica and Courtney are dance artists currently based in Salt Lake City.
August 22nd and 23rd at 7pm. Visit https://www.ashedding.com/ for more info.
Gathering size will be limited, masks are required, physical distancing will be enforced for artists and audience, and other safety precautions will be in place for this outdoor event.
______________________________________________________
Roots Art Kollective (Miguel Galaz, Luis Novoa, Alan Ochoa)
"A World of Hope" https://www.facebook.com/events/639538396691175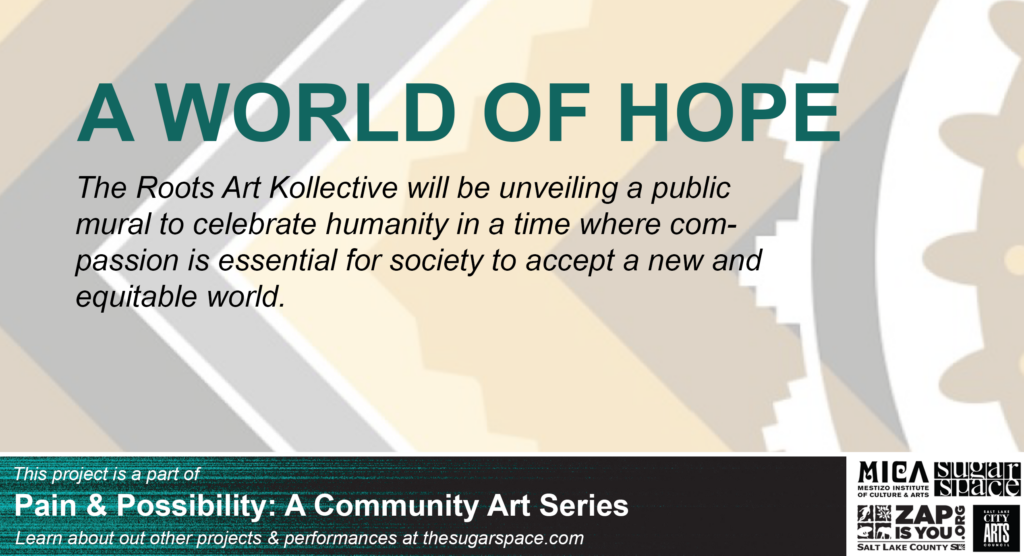 Roots Art Kollective will present "A World of Hope", a public mural to celebrate humanity, in a time where compassion is essential for society to accept a new and equitable world. Using intricate cultural patterns, vibrant colors that represent the diversity of humanity, and some words of hope to stand in solidarity with the social justice movements around the world that strive for equality and systematic change. Roots Art Kollective, is a group of artists with lived experience and commitment to the Westside of Salt Lake City. Their mission is to expand public art to create a colorful environment that allows people to learn about the cultures that enrich our communities.
Mural located at 123 South Jeremy Street, SLC, and unveiled on August 22nd
______________________________________________________
Dulce Horn, Ashlee Jackson, and Mikel Lawlor
"Uprising" https://www.facebook.com/events/946986749140637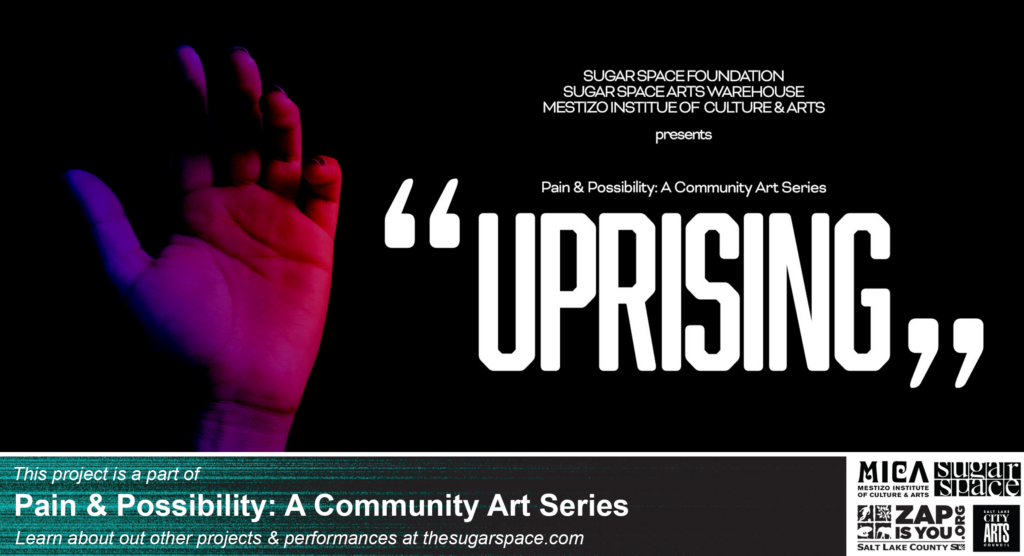 Dulce Horn, Ashlee Jackson, and Mikel Lawlor will come together to perform "Uprising". This series of short dance performances explores the emotional and experiential arc of a movement — the paths we take from harm to healing, from the loss of life to collective action for systemic change. Ashlee and Mikel are students at Rowland Hall; Dulce is an alum of Rowland Hall. All are/were part of the Rowland Hall Dance Company. The performance will be filmed by Cody Salais with support from Laura Summerfield.
August 29 at Sugar Space, 132 South 800 West SLC, 8:20, 8:40, and 9:00pm. Tickets: https://www.eventbrite.com/e/uprising-tickets-116658547857
August 30 at First Unitarian Church, 569 South 1300 East SLC, The show will be performed 8:20, 8:40, and 9:00pm. Tickets: https://www.eventbrite.com/e/uprising-tickets-116665358227
*Gathering size will be limited, masks are required, physical distancing will be enforced for artists and audience, and other safety precautions will be in place for this outdoor event.
Pain and Possibility: A Community Art Series is supported by
Zoo Arts & Parks and the Salt Lake City Arts Council.
For questions, contact:
Sugar Space Foundation c/o Sugar Space
132 South 800 West SLC, UT 84104
385-202-5504