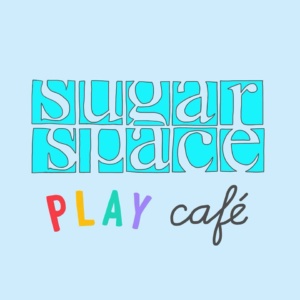 ABOUT the Play Café
**PLEASE NOTE THE PLAY CAFE IS TEMPORARILY CLOSED DUE TO COVID-19 AS OF MARCH 14, 2020. WE HOPE TO SEE YOU AGAIN SOON WHEN IT IS SAFE AND LOGISTICALLY POSSIBLE TO DO SO!**
Sugar Space Play Café is the perfect space to bring your toddler and relax in an urban arts oasis surrounded by community, food and fun.
Relax, grab a coffee or lunch, bring your computer and let your children play and explore! It is a great time to make new friends and socialize in a creative and friendly space.
Our mission is to bring people together in an inclusive space that strengthens our community!
We are a pop-up cafe located inside of Sugar Space Arts Warehouse at 132 South 800 West in SLC, which is a mixed use community arts and events center that is available for hourly rental.  This pop-up style play cafe includes 5,000 square feet of space for your family to enjoy.  Questions? Contact us at sugarspaceplaycafe@gmail.com!
PRICES, HOURS AND RULES for the Play Café
**PLEASE NOTE THE PLAY CAFE IS TEMPORARILY CLOSED DUE TO COVID-19 AS OF MARCH 14, 2020. WE HOPE TO SEE YOU AGAIN SOON WHEN IT IS SAFE AND LOGISTICALLY POSSIBLE TO DO SO!**
Sugar Space Play Café is open Sunday through Thursday, 10am to 2pm.  Closed Friday and Saturdays for private events. There may be occasional additional closures for private events, which will be listed on our WEBSITE and FACEBOOK PAGE.  
Play Area admission is $6 for kids who are crawling and/or over 6 months, to 6 years old.  Adults and infants are free.  Play time is unlimited for the day of purchase!  We also offer 5 play punch cards for $25.  
We have e-gift cards available for purchase here: https://squareup.com/gift/A20H2EAA61YDT/order
Socks are required in the enclosed play areas for kids and adults (and available for purchase for $2).
The Café portion of the space is open to the public for snacks, drinks and light meals.  No entrance fee is required.
No outside food or beverages allowed aside from baby food.
All Children must be accompanied by parent/guardian and parents/guardian are responsible for children at all times and may not leave them unattended in any areas of the facility for any length of time. Please use caution in all areas including stairs, portions of the floor that are concrete, etc.  and leave baby gates closed and locked at all times for the safety of all guests.
Children may not play in or behind curtains or climb furniture/stand on chairs, etc.
Beverages purchased at the Café may be hot. Please use caution!
Beverages are allowed in all rooms of the facility however food must be eaten at the Café tables only.
No food or gum and outside toys is allowed in the play area.  Outside toys are discouraged and especially toys or objects that are not infant and toddler friendly. 
The play area is meant for kids ages 6 and under and therefore rough play is not allowed.  Older kids and siblings are welcome as long as they are playing appropriately.
If you want to reserve the play space privately for a meet up or group please let us know in advance!  We apologize but we may not be able to accommodate large groups or parties without a reservation.
We do not allow outside food or drinks aside from breastmilk, formula and baby food.

If you or your child have a cough, green runny nose, fever or "sick" symptoms, we please ask that you stay home to avoid infecting any of our other guests. If we notice you or your child experiencing any of these symptom, we will ask you to reschedule your visit for another time when these symptoms are no longer present.  We do our best to provide a fun, clean and a "germ free" environment for our children and yours.

We may make changes to our hours and open dates and they will be posted and announced via email and Facebook.  Reasons for closing may include, private event bookings at Sugar Space, weather, etc.  If you are unsure about our hours at any time, please call us at 385-202-5504!
PARTIES at the Play Café and Sugar Space
Our Play Café and Venue is available for rental for parties and events! Please contact us to discuss the many available options!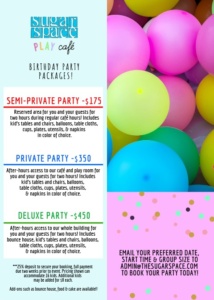 EVENTS AND CLASSES at the Play Café
Art, Dance, Yoga, Music, Character Events, Juried Short Films from KIDSFIRST! and Bounce and Play are just some of the add-on classes and events available in the theater room at the Sugar Space Play Café.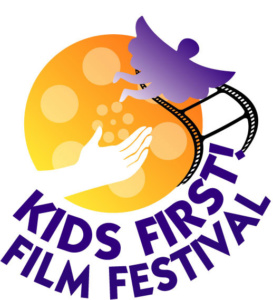 Some classes require an additional fee and some classes are FREE. 
VIEW OUR PLAY CAFE EVENT CALENDAR HERE
Café Menu:
Espresso $1.50
Americano $2.25-$3.00-3.75
Cold Brew $3.25-$4.00-$4.75
Pour over coffee $3.75
Cappuccino $3.50-$4.25-$5.00
Latte $3.5-$4.25-$5.00
Hot chocolate $2.25-$3.00-$3.75
Tea (chai, mango black, peppermint, gunpowder green, earl grey, chamomile) $3.00
Food:
Pepperoni & cheese flatbread pizza $6.00
Gyro with pickle and chips $7.00
#1 Bento with spring rolls, potstickers, edamame, & clementine $7.00
#2 Bento Egg salad sandwich with clementine and chips $7.00
#3 Bento with hard boiled egg, sausage, hash brown, & clementine $6.00
Small bites:
Yogurt and granola parfait $3.75
Oatmeal (plain, brown sugar, apple) $3.25
Veggie & hummus plate $4.00
Baked goods – Varies
Packaged snacks and drinks – Varies 
Dirty and Italian Sodas:
Soda & your choice of flavoring $3.00
Add cream for 25 cents
Our Partners:
Tot Spot Soft Play, Crepe Pro, Millcreek Coffee, Velar Design, KidsFirst
PHOTOS of the Play Café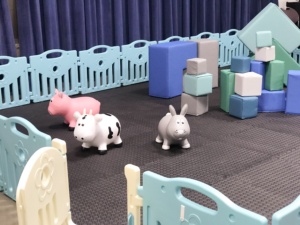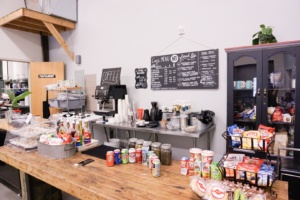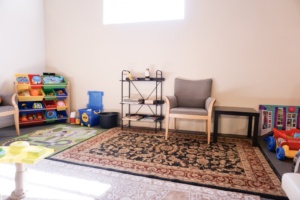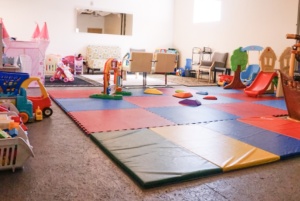 LIABILITY WAIVER for the Play Café
Everyone must register and sign a liability waiver before playing in the Sugar Space Play Café.  Please see the link below to fill out the online waiver.