Sugar Space is available for rent for corporate events, receptions, weddings, parties, events, performances, classes, exhibits, workshops, trainings and more:
Our property has three buildings and features:
– A covered patio for outdoor events
– "Robertson Studio" 1050 square foot multi-purpose studio with maple, sprung floor, professional sound system
– Ample free parking in our private lot and on the street
– "Art House" with private dedicated artist studios
– "Arts Warehouse" 5,000 square foot event and performance space.
Fill out our online inquiry form now!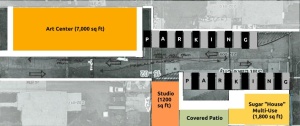 Floorplans
WAREHOUSE (includes event room, gallery, lobby, mezzanine and kitchen preparation area)
* Occupancy 350; (Up to 150 seated audience style, Up to 150 for dinner)
* Event Space amenities available: stage, full theatrical lighting grid, projector, professional sound system, curtains, wood floor with marley surface, garage doors.
———— Warehouse Event Room Floor plan
Warehouse Event Room Layout
Seating Chart with Seating on Stage (135) Without Seating on Stage (115)
———— Warehouse Gallery
Gallery Layout
———— Warehouse Mezzanine (overlooks the gallery)
Mezzanine Layout
ROBERTSON STUDIO
Detached Studio Floor Plan
* Occupancy 75 (100 if using patio as well); 50-75 seated for dinner
* (Professional hardwood maple sprung dance floor, mirrors, sound system, dimmable track lighting, garage doors that can open for indoor/outdoor events
COVERED PATIO
Patio Floorplan
* Occupancy 100
PRIVATE PARKING LOT
* Can be rented for vendors, food carts, bounce houses, outdoor portable stages, event tents and more
ART HOUSE
* Studio 1 (RENTED)
* Studio 2 (RENTED)
* Studio 3 (RENTED)
* Shared kitchen area