Upcoming Events
Sugar Space Foundation Presents
Dance Heginbotham
November 4 and 5, 2016 at 8pm
888-300-7898 or www.thesugarspace.com for tickets.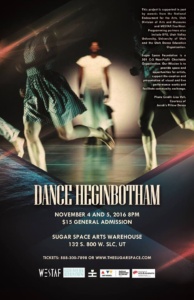 $15 General Admission (Fri/Sat)
$20 VIP Membership Pass (Sat)
*VIP Membership Pass includes a $5 donation to Sugar Space Foundation's presenting program, a ticket to Saturday night performance, a private invitation to our post-performance closing reception with the Dance Heginbotham Company (featuring light appetizers and a cash bar) and future invitations to Sugar Space Foundation members-only events.
ABOUT THE COMPANY
The mission of Dance Heginbotham is to move people through dance. Dance Heginbotham (DH) is a New York based contemporary dance company committed to supporting, producing and sustaining the work of choreographer John Heginbotham. With an emphasis on collaboration, DH enriches national and international communities with its unique blend of inventive, thoughtful, and rigorous dance theater works.
JOHN HEGINBOTHAM
Originally from Anchorage, Alaska, John Heginbotham graduated from The Juilliard School in 1993, and was a member of Mark Morris Dance Group from 1998 – 2012. In 2011 he founded Dance Heginbotham (DH), which has been presented by institutions including Baryshnikov Arts Center, Brooklyn Academy of Music, Jacob's Pillow Dance Festival, The Kennedy Center, and The JoyceTheater, among others. In 2016, DH toured to Indonesia, Laos and the Philippines with Dance Motion USA , a cultural diplomacy initiative of the U.S. Department of State, produced by the Brooklyn Academy of Music.
John's recent independent projects include choreographing Daniel Fish's Oklahoma! at Bard Summerscape (2015); Angels' Share, a new ballet for Atlanta Ballet (2014); Isaac Mizrahi's The Magic Flute at Opera Theatre of Saint Louis (2014), and Peter and the Wolf for the Guggenheim Works and Process Series (2013).
John is currently a Fellow at the NYU Center for Ballet and the Arts, and is the recipient of the 2014 Jacob's Pillow Dance Award. www.danceheginbotham.org
Performers include John Heginbotham (dancer/director), Nathan Koci (pianist), Lindsey Jones (dancer) and Weaver Rhodes (dancer.
*******************************************************************
**Residency activities will include Dance Heginbotham breakout sessions and Keynote Speaker address at UDEO State Conference, Master Classes at BYU, and a workshop at Sugar Space with Grey Matters/Dance for Parkinsons Disease
Oasis
Sunday Weekly gathering 11am-12:30pm
http://www.saltlakeoasis.org/
EMPOWERED BY REASON. CONNECTED BY COMPASSION.
A place for secular people where people are more important than beliefs.
Note from the Owner:
Check out the latest news!
* Sugar Space Foundation received ZAP Funds for 2017!
* Director Brittany Reese graduated from the Small Business Administration's (SBA) Emerging Leaders Training.
* Sugar Space and partners "West Side Community-Engaged Artist Residency" is one of 80 finalists being considered for the 2016 National Creative Placemaking Fund. These finalists represent a mere 6% of the total applicants for the Fund. Read the press release here: Art Place Press Release
* Our Awning has been installed courtesy of a grant from the North Temple Facade Improvement Program.
* We are happy to rent space to two food trucks including DOSE SLC coffee and Don Rafas Tacos!